How Restaurants Plan to Continue Outdoor Seating This Winter.
Michigan restaurants will unfortunately still have to deal with COVID-19 when the snow starts to fall.
So when the temperature drops, how will they handle those diners who prefer outdoor seating?
Let's look back a couple of months…
When Michigan Gov. Gretchen Whitmer allowed restaurants to reopen with only a 50% indoor capacity limit, business owners got creative and needed to find solutions to meet the demand of diners… and fast.
They built patios outside, moved tables onto sidewalks, streets and parking lots to accommodate diners who wanted to eat outdoors. Our directory even has a category that shows restaurants downriver who have outdoor seating, which is still evolving as time goes on.­­
The restaurant and lodging industry certainly had a lot to say about this profound change:
"We had this sort of 'everyone rally together' (phase)," said Justin Winslow, president and CEO of the Michigan Restaurant and Lodging Association. "It was not a 'successful' period, but that outdoor dining capacity is what made the difference between a lot of people surviving and going under. And that's going by the wayside."
The 50% capacity limit and 6-foot mandate between diners still exists, even as Michigan's COVID-19 numbers have diminished, but we are not out of the woods yet and winter is upon us along with flu season.
Many dining customers only feel comfortable dining outside, due to fear of catching the virus.
The restaurant industry is worried how they will manage staying in business once outdoor dining areas are closed for the season.
This is a sad statistic…
A National Restaurant Association survey shows 23% of Michigan operators say it's unlikely their restaurant will be in business six months from now.
"This industry is in grave danger of not being able to make it," Winslow said. "It's already a low-profit industry."
Even during the warmth of the summer, 82% of restaurants were down in sales in August compared to last August, per the NRA survey. Sales were down 32% on average.
The intro of outdoor solutions like the igloo
One potential solution might be the spherical globes for outdoor eating spaces, such as the igloos.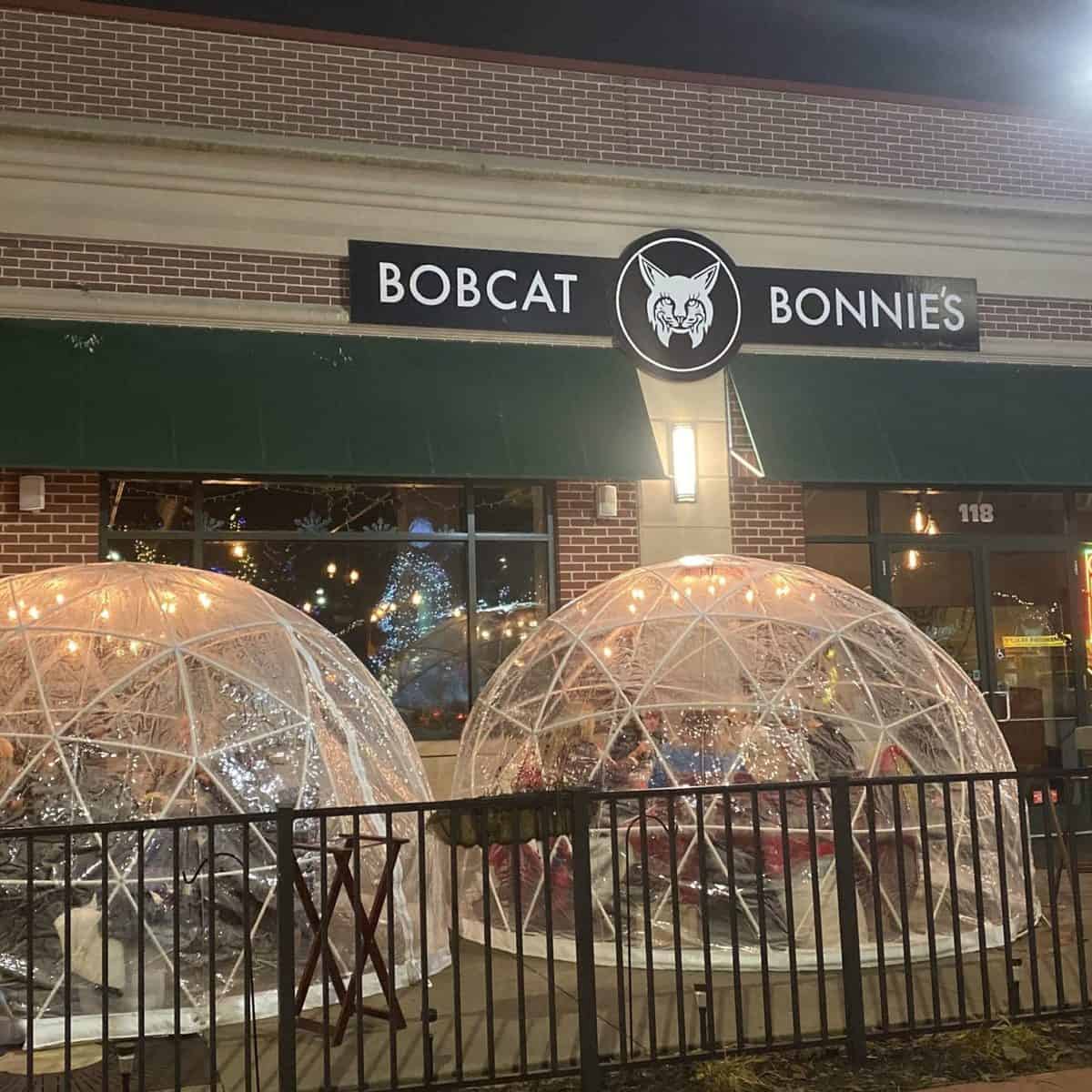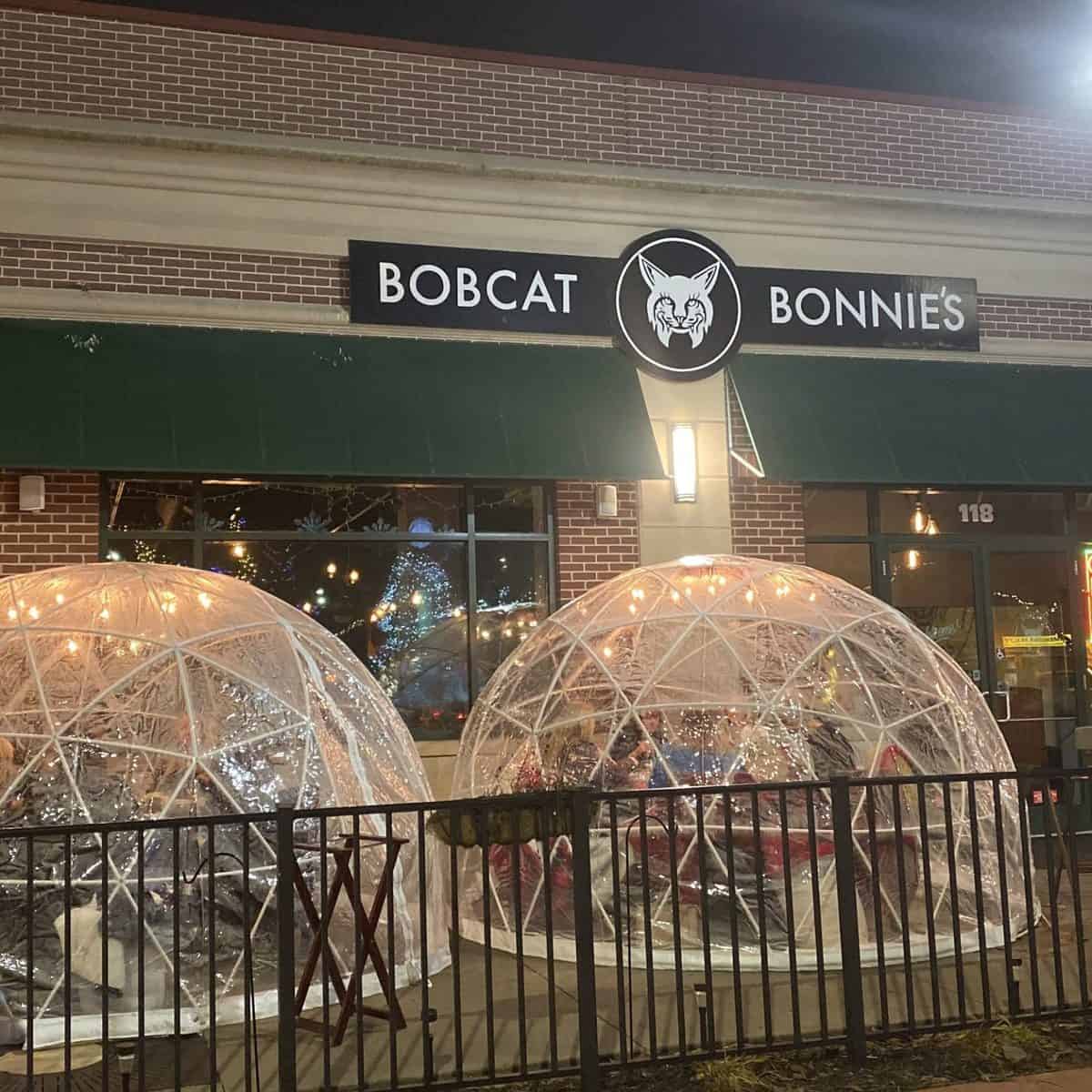 What was once just a seasonal special event, such as Bobcat Bonnie's holiday seating globes, soon will become the norm now that restaurants are looking for permanent ways to make outdoor seating a year-round possibility.
Outdoor solutions like the igloo or globe are now absolutely critical, because that 50% restriction inside is going to be brutal on restaurants sustainability.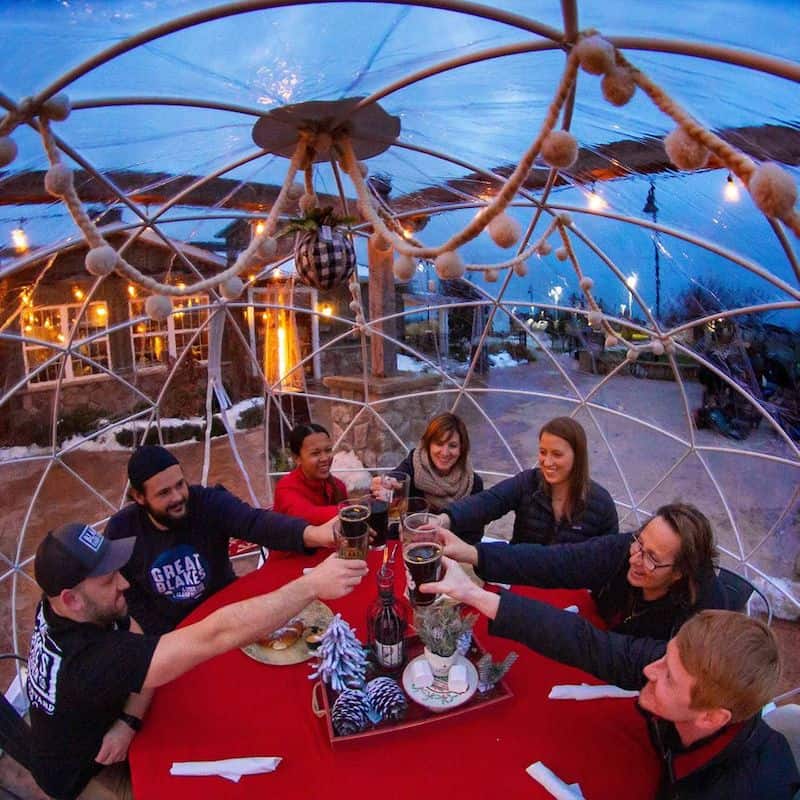 There's a variety of igloos out there, from cheap plastic to Plexiglas, some of which are made with polycarbonate – the same material used in race car windshields.
These were popular during the holidays, especially when it was snowing. Their ambiance was desirable pre-pandemic, but now, keeping space between groups is paramount, making these even more attractive.
Igloos like those at Hop Lot have become a hot commodity in the late fall and winter at bars and restaurants across Michigan. From downtown Detroit to the suburbs to Petoskey and Marquette in the Upper Peninsula, igloos are popping up like mushrooms sprouting on a forest floor.
"It's a fascinating idea and a great way to generate more business," said Carl Borchgrevink, director of the School of Hospitality Business at Michigan State University.
Industry experts know that restaurants and bars will struggle throughout the winter as long as seating capacity is limited.
Restaurants will be encouraged to explore outdoor seating options and to work with city and building officials to stay compliant to find more safe ways to expand seating outdoors.
More outdoor seating ideas
Besides the igloos, some restaurants are building covered pavilions, heated tents, glass or steel structures, adding space heaters to patios and more.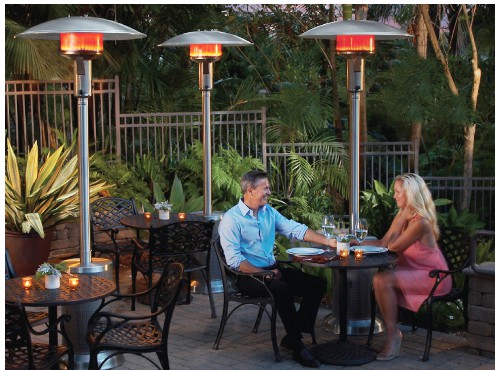 Bars and restaurants are building larger outdoor patios and enclosed pavilions, along with heaters to help keep their place open in the fall and winter.
The ideas for outdoor seating came from the Chicago Winter Dining Challenge – which allowed people to submit drawings and concepts for outdoor dining in the winter with $5,000 going to the winner.
More ideas included: heated tables with connected fleece tablecloths/blankets; repurposing school buses for dining space, winter cabanas/tents/nests/pods/igloos/domes; "Container Alley" that repurposes shipping containers for dining space on the other side of sidewalks; heated outdoor glow stools; and a demand response pricing app that raises and lowers meal prices depending on how busy the restaurant is.
The pandemic isn't over and probably won't be for some time.
For restaurants without a spark of ingenuity to keep the customers coming in this winter, the financial repercussions could be very detrimental.
Although carryout and delivery are great options for those diners who want to stay home, customers can also hope that more restaurants start offering these igloo globes, outdoor heaters and enclosed patios as a way to beat Mother Nature's attempt of keeping them from enjoying a meal at their favorite downriver restaurant.
If you have any more ideas that restaurants can implement to help them sustain business during the winter, we would love to share it with the downriver community.
Let us know how you feel about dining indoors and outside by sharing your feedback below.
You can always follow us on Facebook and share your comments to reach our biggest audience.