Your ultimate resource for Restaurants that DO NOT allow guns.
The Second Amendment is a fundamental right of every American.
However, there are still many places that won't allow you to open carry inside their building.
Certain businesses in Michigan have either posted no-guns signs or have indicated in their 'business policy' that persons lawfully licensed to carry concealed firearms for self defense are not welcome on their property or within their place of business.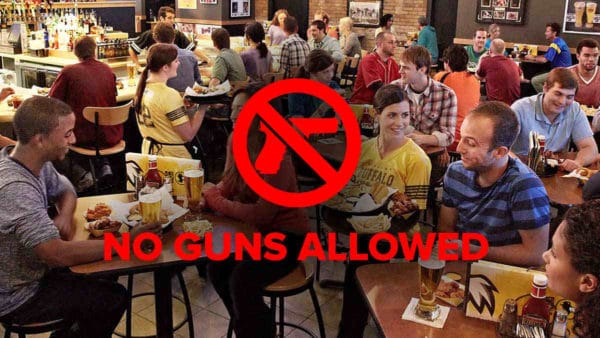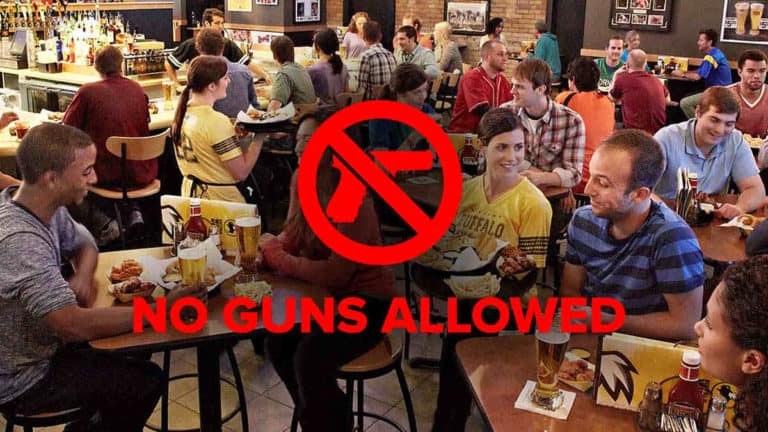 While the policy doesn't mean to deny Michigan's upstanding citizens the right to protect themselves against a criminal attack while shopping or eating, it does seem that only law-abiding citizens will obey their no guns allowed signs.
The display of a "No-Guns" sign can give criminals a lot less to worry about and may even embolden a bad person to commit armed robbery or an act of violence in these so-called "gun free environments".
Although most businesses in Michigan have chosen not to post discriminatory signs against concealed pistol holders, some have. Even though these businesses have the right to post no firearms allowed signs, it does NOT mean that they are "gun free environments" as criminals intent on robbery, or worse, will continue to be armed.
Although we have found quite a few restaurants within the downriver area that do not allow guns, this list is not all inclusive.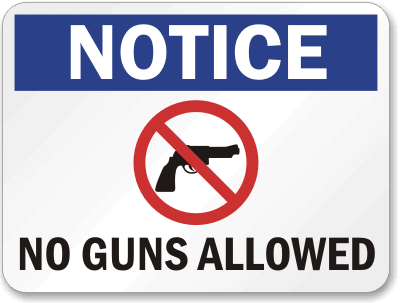 Here is our current list of NO GUNS ALLOWED restaurants:
Applebee's
Buffalo Wild Wings
Carrabba's Italian Grill
Chili's
Chipotle
Chuck E Cheese
Domino's Pizza
Hooters
Outback Steakhouse
Panera Bread
Pizza Hut
Qdoba
Sonic
Starbucks
Every time we experience another major act of gun violence, it seems the list of anti-gun restaurants grows bigger, so it's better to err on the side of caution when you eat out and choose not to bring a pistol.
Whether you are Pro or Anti-Gun, restaurant owners can also dictate if you can bring a weapon into their establishment.
Some places have even seen some pretty nasty backlashes to their gun policy.
Like this story…
Although a few years old, you can read about how this pizza place had to fight back on social media after negative reviews mounted in a fury:
Pi Pizza, the recently opened brick-and-mortar home of the popular food truck that's a collaboration between chef-partner Anthony Calleo and Cherry Pie Hospitality (State Fare, Lee's Chicken and Donuts), found itself on the receiving end of a modern phenomenon this weekend when guns rights activists bombarded its Facebook, Yelp, and Google pages with one-star reviews over the restaurant's decision to ban concealed carry from its premises.
If you carry and plan to visit a restaurant, it's always best to keep your gun locked in your vehicle unless you know for sure the establishment will allow you to carry it inside.
Along with the right to bear arms, you ultimately have the freedom to pick and choose where you decide to eat or shop and now with our list of anti-gun restaurants downriver, you are more prepared when you eat out.
Refer to the additional cited sources below for more info on the open carry policy for restaurants.
There's also a Pro & Anti Gun Carry Locations app you can buy for your phone so you'll always have a list handy.
Resources:
Places to avoid while armed 
The Boycott List
Businesses That Prohibit Guns