Tropical Smoothie Cafe welcomes of the arrival of summer with the introduction of new and returning fan-favorite seasonal offerings.
Tropical Smoothie Cafe Adds New BBQ Pork Quesadilla And New Guava Margarita Smoothie As Part Of Summer 2020 Menu.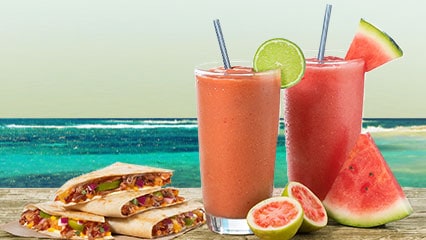 The cafe's limited-time sweet and spicy seasonal offerings for summer 2020 include:
New BBQ Pork Quesadilla: BBQ glazed pork, queso blanco, cheddar cheese, a smoked cheese blend, pineapple salsa and pickled jalapenos with a wedge of fresh lime.
New Guava Margarita Smoothie: A blend of guava, strawberry, mango, pineapple and lime.
Watermelon Mojito Smoothie: Afan-favorite blend of fresh cut watermelon, strawberry, mint and lime.
Tropical Smoothie Cafe currently offers curbside pickup, order ahead and delivery at participating downriver locations.
Learn more about their menu items by visiting Tropical Smoothie Cafe's website.
Source: This news appeared first on Chew Boom.