Burger King is giving away free Whoppers.
Burger King really wants you to try out the new Ch'King Sandwich, and they've launched the best (and tastiest) promotion to give customers the push they need to do so.
How about a free Whopper?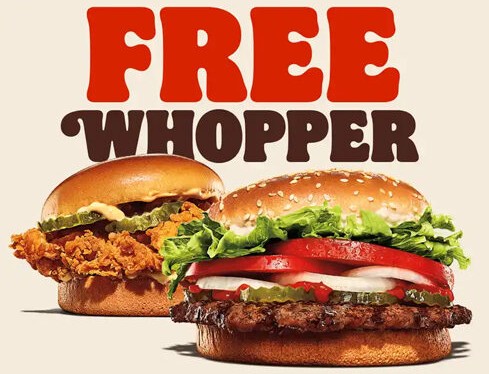 If the fast food king is known for anything, it's the Whopper, no doubt about it! I guarantee most of us stop by Burger King for a  Whopper,  side of fries, and refreshing drink (a sweet tea for me, please).
So its latest promotion makes perfect sense.
This is a great deal, especially with the summer season in full swing soon.
Customers who purchase the new Ch'King Sandwich will receive a free Whopper.
All you need to do is go to the BK app (or visit BK online) and find the coupon under the "offers" section. Then, add the Ch'King Sandwich to your order and a Whopper will be included in your basket.
Don't wait to take advantage of this offer! Burger King is giving Whopper fans until June 20, 2021, to enjoy this deal. There's also a limit of one redemption per account.
Source: The news about Burger King's free Whopper offers was shared from Guilty Eats.